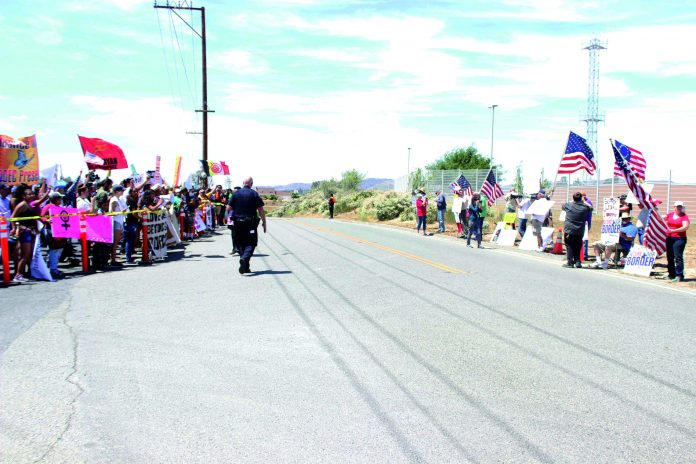 As Donald Trump's presidential inauguration looms closer, municipalities across southern California are scurrying to establish themselves as sanctuary cities.
The term is used generally to describe the process in which local governments refuse to use their own resources or funds to enforce national immigration laws, according to the California Law Review.
Trump's victory in the presidential election last year raised concerns among undocumented residents in Rialto. As claimed by resident Ana Gonzalez, many fear being deported or separated from their families.
"A lot of [undocumented residents] are asking, 'What's going to happen? Are we going to be safe?" explained Gonzalez. "The immigrant population is scared."
Gonzalez and several stakeholders were scheduled to meet with Rialto councilmember Rafael Trujillo at City Hall on December 30 to discuss the issue, but were instead met with protest from Claremont-based group We The People Rising. Trujillo–feeling threatened by the large presence of the group–decided to postpone the meeting.
The group and several other residents expressed frustration over the perceived lack of transparency demonstrated by the Rialto councilmember. Resident Geraldine Sanchez said she was "ticked off" when she learned a meeting was going to take place without the knowledge of the general public.
"It's very shady for him to do something like that," Sanchez said. "There's no way I want Rialto to be a sanctuary for illegals."
Trujillo claims that the meeting was unofficial and that no city committee has been created to address the issue.
"A lot of people are afraid of the new [presidential] administration coming in," Trujillo said. "I'm trying to learn about the issue and what it means."
Refuge for immigrants?
Approximately 326 counties, 32 cities, and four states limit local law enforcement involvement in federal immigration enforcement, according to the American Immigration Council.
California has proven itself to be a trendsetter of sorts within the Sanctuary movement. The Los Angeles Police Department was the first to adopt a policy intended to prevent local police officers from enforcing immigration law in 1979, according to a Los Angeles Times story published in 2008.
However, such legal moves or symbolic public statements do not protect undocumented immigrants from being detained. Santa Ana–despite being the first city in Orange County to label itself a 'Sanctuary''–intends to continue its immigration enforcement relationship with U.S. Immigration and Customs Enforcement (ICE).
As a result, many sanctuary policies could fail to fulfill their intended purpose of limiting immigration enforcement, argues legal expert Laura Sullivan.
"Sanctuary policies may fail to operate effectively as a direct result of federal initiatives," reads Sullivan's study on Sanctuary Cities and immigration crime records.
Federal initiatives, such as the Priority Enforcement Program (PEP) allow for ICE to collaborate with local and state law enforcement to apprehend immigrants who they find as a risk to the public. Specifically, ICE could seek the transfer of removable individuals when they are convicted of offenses listed under the DHS civil immigration enforcement priorities, participated in gangs, or pose a danger to national security.
The program and its predecessor, Secure Communities, are criticized by immigrant rights groups for misinforming the public about who is being detained and for the strain on local resources.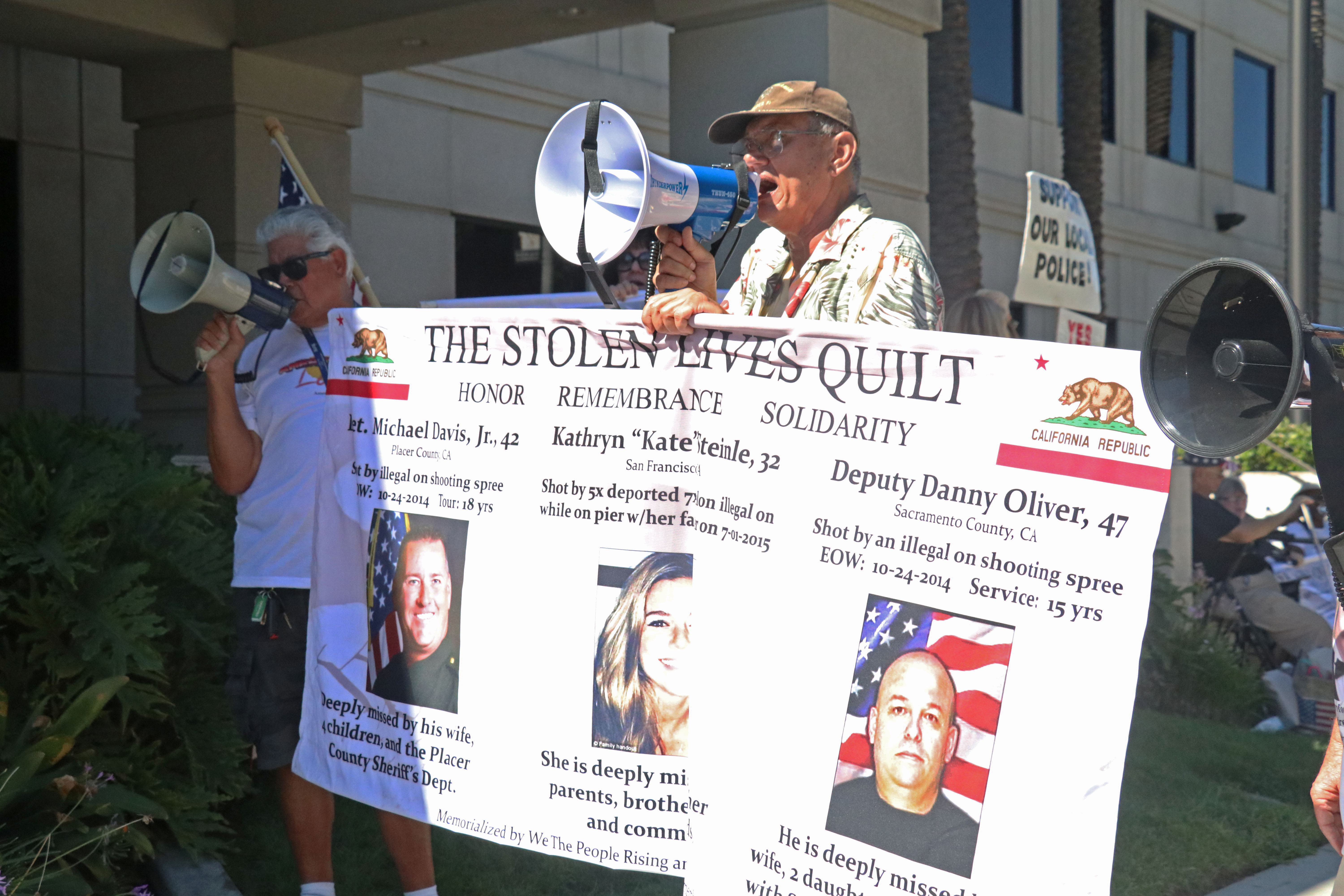 American Civil Liberties Union of Southern California representative Luis Nolasco, who is also a Rialto resident, believes potential law enforcement collaboration may hurt the city fiscally.
"Cities that comply with policies like PEP and 287(g) [Delegation of Immigration Authority, Immigration and Nationality Act] are using time and resources that could be used by officers to enforce other issues," said Nolasco.
Ana Gonzalez agrees with Nolasco. "Our city is not prepared to do this kind of enforcement," she said. "If there's a crime committed, then of course action needs to be taken. But we shouldn't be focused on breaking up families."
On the contrary, there are concerns by some that Sanctuary policy could contribute to the harboring of "criminal aliens". The Remembrance Project for example, attributes the murder of member Agnes Gibboney's son, Ronald Da Silva, to failed immigration enforcement. Da Silva was killed by an El Monte gang member in 2001. He was 29-years-old.
"Her son's murderer, an illegal immigrant, is scheduled to be released from prison in 2020," explained Remembrance Project California Coordinator and We The People Executive Director Robin Hvidston. "Because he has family ties here, he may be released back on U.S. soil. It's very difficult for [Agnes] to cope with."
Resident and Rialto Now blogger David Phillips believes it is imperative to allow the federal government to do its job and enforce immigration law.
"We should not create opportunities for criminal illegal aliens to stay," Phillips said. "The goal should be to prevent further attacks and provide national security."
Legal immigration and the 'Good Immigrant' vs 'Bad Immigrant' narrative
Resident Geraldine Sanchez expressed she knows many people who have migrated to the U.S. and respects their decision to enter the U.S. through legal authorization.
"I love immigrants, but I want them to do it the right way," she said.
The right way means going through a lengthy process–one that continues to experience heavy backlogs. The Department of State reported in November 2016 that 4.4 million people are on a waiting list to receive legal immigrant visas.
That's because U.S. Citizen and Immigration Services (USCIS) is too occupied with providing work permits to undocumented immigrants, noted Center for Immigration Studies (CIS) Director of Policy Studies Jessica Vaughan in a 2015 study. Waiting times for those sponsored by U.S. citizens range from 18 to 33 years.
Yet, some undocumented immigrants contend that they have no choice but to enter illegally to escape persecution and violence in their home countries.
Hvidston, who considers herself a "pro-legal immigration" advocate, argues there should be no issue with immigrants that comply with federal regulations.
"If they are following the law, if they apply for citizenship or asylum, the argument of them being illegal is a mute point," Hvidston expressed. "Our stance is the law. The law is no respective person."
Luis Nolasco, who has spoken to dozens of undocumented immigrants that claim to have been apprehended, detained, and deported by ICE because of their ethnicity, contends that immigration enforcement in the U.S. is largely punitive.
Nolasco also said that older immigrants–particularly those who do not benefit from deportation deferment–and younger immigrants who do not fit American views of the behaving, docile 'Dreamer' are prone to vindictive measures.
"A long conversation needs to take place," said Nolasco. "The immigration system is more complicated than people think. There's an added layer of punishment to those who have criminal records. Why do we put some immigrants on a pedestal? Why are we throwing some under the bus? Regardless of status and background, we are all a part of the same community."
Jefferson Meyer, who has lived in Rialto for nearly 30 years, understands the humanitarianism behind the immigrant rights movement, but believes undocumented immigrants are aware of the risks of crossing the border illegally.
"I understand people wanting to come and live here," said Meyer. "But it was their choice to break the law."