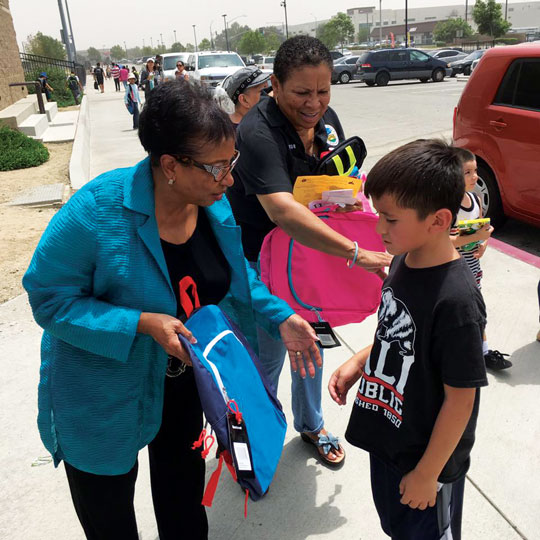 Nearly 2,000 Rialto students started off the school year with new backpacks and school supplies thanks to Young Visionaries Youth Leadership Academy.
The local nonprofit held its 10th annual Backpack Giveaway July 30 at Rialto Middle School, just in time for the first day of school Aug. 3.
A line outside of the campus had formed hours before the 11a.m. event as dozens of families anxiously waited to receive the back-to-school gear.
Organizers had estimated a crowd of about 500 for the event with plans to distribute the same number of backpacks filled with school essentials. But when numbers doubled and backpacks ran out, Rialto Mayor Deborah Robertson rallied to gather donations for additional backpacks so children wouldn't go without.
Close to 1,500 backpacks were distributed to children at the event, and a few hundred more received a ticket voucher to return Wednesday afternoon to receive a backpack from the additional donations gathered.
In addition to school supplies, about 70 children received haircuts as part of the event.
Plans to expand the annual event are in the works, specifically to supply more children with backpacks, said Young Visionaries founder and CEO Terrance Stone.
"We are definitely aiming for more backpacks next year. There's obviously a need," he said. "Seeing the smiles on the families is worth it."