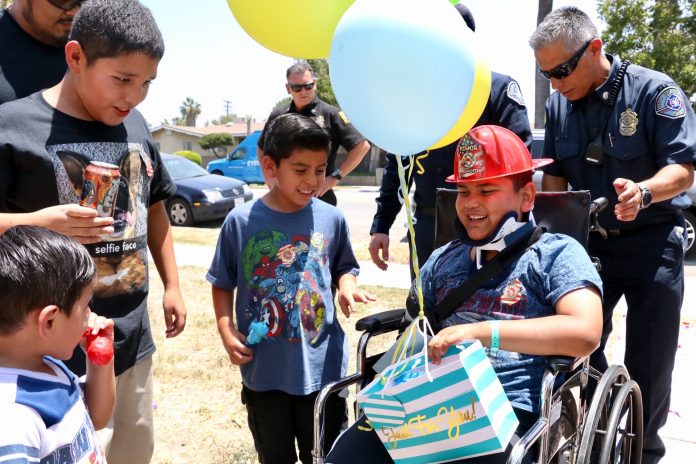 With a beaming smile and an equating cheery tone, Jonah Reyes greeted friends, family, and first responders as he arrived home from the Loma Linda University Medical Center on Monday.
The 8-year-old Superman fan suffered a broken tibia and arm after being struck by a car on La Cadena Avenue last week, according to his mother Amy Reyes.

"The first few days were rough," she said. "But he made it through."
Jonah's family and friends expressed their concerns with the street's speeding dilemma–demanding the city leadership take action to avoid future accidents.
"We need more officers, stop lights, and speed bumps," Amy said. "It's happened before. They need to step up their game and make some serious changes."
Jonah was playing outside in front of a friend's home when a car lost control on a curve on North La Cadena Drive. The car struck Jonah and smashed into one home. At that moment Jonah went into shock, losing his breath and later closing his eyes.
"I thought he was gone," Jonah's father, Gilbert, explained.
Gilbert Reyes said his son has a long path to recovery. He said Jonah has been struggling to sleep–having a lot of nightmares.
"This is going to stay with him forever," he said. "But he will learn to heal."
Mayor Richard De La Rosa said in a phone interview on Tuesday that the Public Works department is looking at short term and long term solutions to address the speeding issue on La Cadena Drive.
The short term solution, De La Rosa explained,  is adding improvements, such as lights and signage. The long term solution is reconstructing the street as an 'L turn' corridor that makes it easier for vehicles to turn.
"We think the motorists needs to be more aware that there is a stop sign approaching," De La Rosa. Maybe putting signage will help notify the cars coming down. This will take some engineering and legal opinion to accomplish."
For now, the Reyes family is investing its time in ensuring Jonah is situated back at home. Amy Reyes thanked the community for wishing her son a speedy recovery.
"It's been nothing but overwhelming support from the community," Amy said.