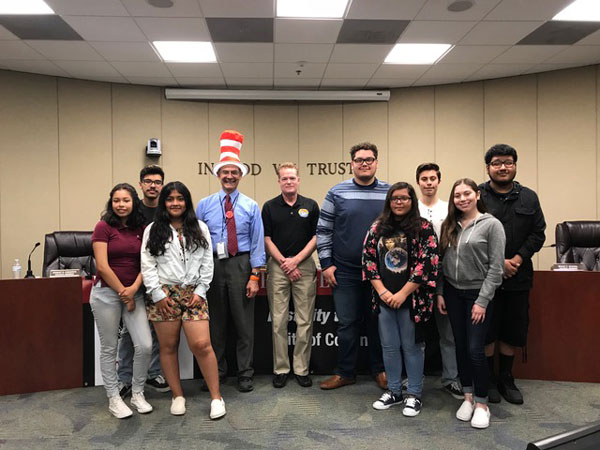 This month, the City of Colton's Youth Leadership Program has been rolling full steam ahead with an action workshop that took place last Saturday morning. Following a welcoming reception, the 9 a.m. session included a discussion on leadership skills, a Colton history worksheet, a "Leadership and Volunteer Opportunities" activity sheet, a Question & Answer segment, and an informative presentation by Colton City Manager Bill Smith.
"What is a City Manager?" is a question often asked by young people, said Smith, and for the majority of the special presentation, that's exactly the question he logically answered. With more than 20 years of experience working in the City of Colton, Smith shared a delightful summary of his job duties, activities and responsibilities.

Basically, "The City Manager runs the city," Smith pointed out, "while the members of the City Council are the policy makers."
"This is an important concept for all residents to understand," explained Dr. G, founder and Director of the Youth Leadership program.
Founded in 2016, Dr. G established this program to provide an opportunity for high school students to learn about municipal operations, community life, and meaningful community volunteer work. Each month the program features guest speakers from city staff or members of the City Council, who offer informative snapshots of their respective departments or positions.
"The program has been very successful as demonstrated by the consistent attendance, growing interest, and increased participation in community programs, and events," reported Dr. G.
The City of Colton, City Council, members of the staff, and student participants are to be congratulated for the support and success of this program. Recently, the program was nominated for the prestigious Putnam Award for engaging youth in city government, sponsored by the League of California Cities.
For more information about the Youth Leadership Program, contact Council Member Dr. G, by email LSG85@aol.com or by phone at 213-3730.
By Dr. G (Dr. Luis S. Gonzalez)