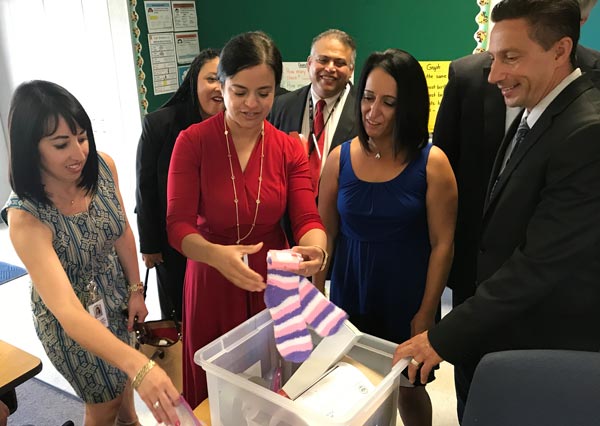 Students at Rialto schools can go full STEAM ahead thanks to new science supplies provided in time for the 2017-18 school year.
During the first-day of school on Aug.7, district officials, including Superintendent Cuauhtémoc Avila, surprised a handful of classrooms at Boyd and Bemis elementary schools and Kucera Middle School with a bin-full of materials for STEM and STEAM-related labs and projects.

STEM education focuses on science, technology, engineering and mathematics, while STEAM adds an arts component to the mix.
Boyd's new principal, Kaynee Correoso, is thrilled over the latest classroom additions and says it'll be a time saver for teachers.
"A teacher can just pull out the bucket and start experimenting immediately," she said. "There's no looking around for things, everything that's needed is right there ready to go."
The bins of supplies were provided by RUSD in support of its STEM Plan and literacy outreach. All classrooms throughout the district's 19 schools will receive a bin with the proper materials for the experiments that align with the Common Core standard according to grade level, said Eva Serrato, academic agent at the district.
All RUSD second graders will take on exploring seed dispersal in the "I Got You Babe" lab. Their bins came complete with everything from seeds to socks. As part of the lab, students will use the school garden to explore different plants and seeds and will simulate animal transfer by fur via a "sock walk". A student will wear the socks and become the "fox" transporting the seeds. They'll count the number of seeds on the socks and graph how many were transported.
The Common Labs are intended to take place over a series of days and are integrated with literacy (listening, reading, speaking and writing) and mathematics skills to provide teachers relevant information for emerging readers and writers, as well as build age appropriate math skills using scientific context.
What's most exciting is that they can be used for years to come as supplies can be easily replenished, district officials said.