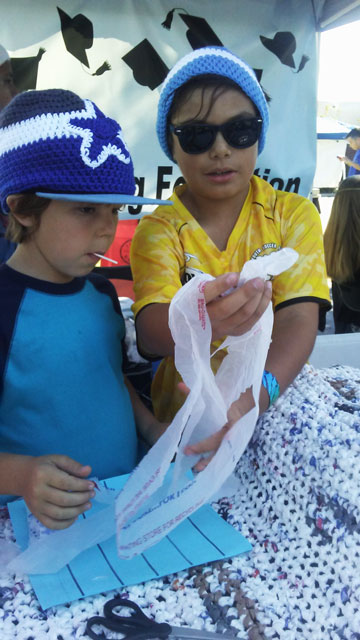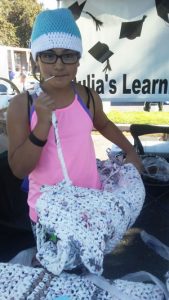 "People who are homeless don't like to lay on the dirt," noted Parkside Elementary 4th grader Bob Cline. "With these mats they don't have to sleep on the floor anymore."
Approximately 33 students from Tina Gauthier's fourth grade class at Parkside invested hours upon hours on a project that kept nearly 3,000 plastic bags out of landfills and transform them into light, easily transportable and water resistant mats. Students worked on them during the after school program and at home during evenings and weekends.
"The project gave children the opportunity to help their community and become aware of their own environment," said Gauthier. "It allowed us to talk about the needs of others. Some students were in that situation, and the others embraced them telling them that regardless of their unfortunate circumstances they still cared about them."
Students created the slogan "You Matter" that was written on a tag and attached to each completed mat. It takes about 500 plastic shopping bags to crochet one mat.
The project that fostered compassion and charity launched in September and six mats have been completed thus far. Vicki Lee, Homeless Liaison for the San Bernardino City Unified School District, distributed those mats to homeless individuals.
"So many people don't understand homelessness, and to see that the students are sympathizing and actively working to give back is amazing," Lee said. "The individuals I gave the mats to received them with love and were really grateful."
Nearly a dozen students from Gauthier's class demonstrated how to make the mats during the Annual Community Wellness & Resource Fair on Saturday at the New Hope Family Life Center in San Bernardino. Each of them was extremely excited and enthusiastic about their project because of its positive impact to someone in need.
"I care about the homeless and want to be able to help them," said Ashley Ramirez, 11.
Bob Cline echoed similar sentiments. "This took a lot of time, but very worth it because it was for a good purpose."