Jordan Pachot establishes "grand daddy" records
4 min read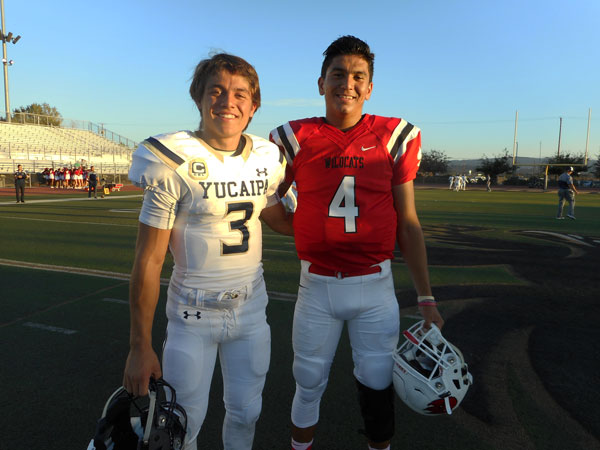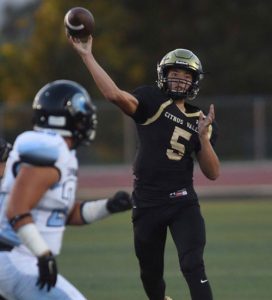 High School quarterbacks in the Citrus Belt League have local sports historians scratching the their heads. At 120-years-old, the CBL is considered the grand daddy of Southern California prep football. Never in the league's history has there been such production from the quarterback position.
Jordan Pachot of Citrus Valley High is the latest example. Pachot set a CBL record when he threw for 492 yards on Oct. 21 against Yucaipa. This comes during the same season that league rival Armando Herrera of Redlands East Valley could become the all-time California Interscholastic Federation-Southern Section's career passing yardage leader.
Yucaipa has a strong-arm quarterback of its own in Nathan Martinez who has eclipsed most of that school's passing records. In Yucaipa's 66-44 win over Citrus Valley, Martinez and Pachot combined for over 800 yards passing. Martinez set a CBL record last week when he threw seven touchdown passes at Eisenhower. Redlands High also has an accurate quarterback in lefty Steven Garcia who is finally getting some playing time as a senior and has immediately produced with 23 touchdowns and over 2,000 yards.
Others like Herrera and Cajon's Jayden Daniels excelled immediately putting up numbers as freshmen that would have been unheard of ten years ago. Herrera is closing in on his fourth CBL championship while leading Redlands East Valley. As a freshman last year, Daniels led Cajon to a co-CBL title by directing it to a decisive 37-17 win at REV. Although he is down some this season, Daniels passed and ran for 3,200 yards and 31 touchdowns last season in earning All-CIF honors.
The recent emergence of the outstanding crop of CBL quarterbacks has surprised historians Al Sanchez and Harry Carson Frye, who have over 100 years experience combined tracking the CBL. Both are graduates of Redlands High which is the longest running member of the CBL dating back to about 1892. "The CBL is the grand daddy of all high school leagues in Southern California," said Carson-Frye.
Sanchez said he's never seen anything like all the passing quarterbacks in the CBL. "I used to think that 250-300 yards passing was special. When I saw the 492 yards, I thought it was unreal," said Sanchez, a member of the Redlands HS Hall of Fame. Sanchez has seen all the top CBL quarterbacks dating back to Ken Hubbs, Roger Chaney, Brian Billick and Chris Ault. Sanchez could not confirm that Pachot's 492 was a passing record, but he has never witnessed anything close to that amount since he began keeping stats in 1954.
Carson-Frye, who has a high school data base that goes back to 1892, was more confident about Pachot's new CBL record. "The CBL was always known as a smash mouth, grind it out league. It was run, run, run," said Carson-Frye. He listed the old rushing teams of the CBL's past like Fontana, Riverside Poly, Chaffey, Pomona, Santa Ana, Colton, and San Bernardino. "Pacific passed a little with Chris Ault, maybe he'd get 200 yards. But all the quarterbacks just handed off or ran out of the wildcat. The 492 should be a record."
The San Andreas League has the top single game all-time passing leaders in San Bernardino County with Robert Fuller's 604 yards in one game in 2005 and Cajon's Angel Reyna's 527 yards in 2002. Carson-Frye and other record keepers note that statistics are provided by high schools based on an ungoverned honor system. Therefore high school records are not held in the same esteem as colleges and professionals.
The CIF record book lists only the top ten single game passing yards and Cal-Hi Sports could not supply any up-to-date records at this time. Sanchez says all the new passing yards are due to the good coaching in the CBL. "There's more hard work being put in and there is special training," says Sanchez. "Passing is the big trend now. I'm amazed at how easily quarterbacks are completing passes of 40 or 50 yards."
Carson-Frye says the game itself has changed. "There was a time in football when an incomplete pass was a turnover. The emphasis now is on passing because the rules have changed. You flood the zone with receivers and there's not enough defenders to stop the pass. In the past, quarterbacks weren't so good."
Former Citrus Valley quarterback Chris Shiley, who's records Pachot is surpassing, attributes the use of the spread offense to the recent passing yard totals. "On every pass play there is now at least one receiver open for a split second." Shiley is not surprised that Pachot broke all his CVH passing records. "Sooner or later it would be done. I think it is great. His dad, Gavin has been an offensive coordinator and his brother (Kellen) is one of his receivers. Jordan understands the game."
Shiley was the last of a long line of exceptional running quarterbacks out of the CBL and his school rushing records from that position should stand for many years. Shiley now attends RCC where he runs the sprints and relays. He added that better coaching, diet, and conditioning make for a better modern day athlete. He feels that digital goggles are also helpful by letting quarterbacks practice in 3-D simulated games.
Others like Mark Tennis, editor of Stockton-based Cal-Hi Preps says more passing yardage is due to the spread and no-huddle offenses. He says more and more schools are using those approaches putting the defense at a disadvantage. "It used to be that 470 yards was the line we used to get into the book. We may have to raise it to 490 or 500 yards." Tennis said that there has been several 500 passing games this season. "I expect at least one or two tonight."