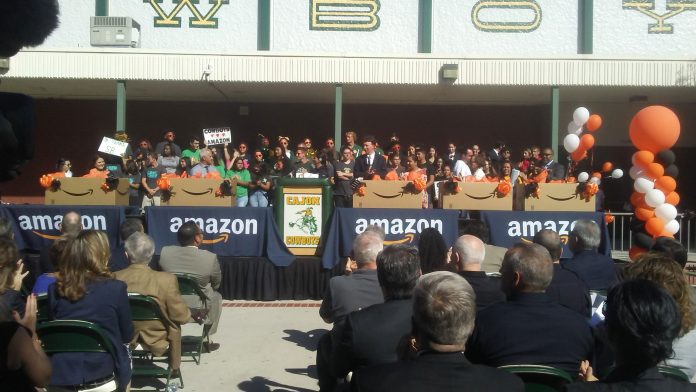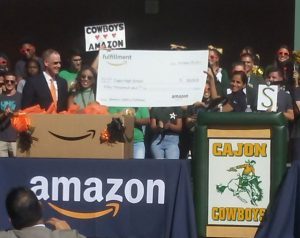 Amazon opened its first fulfillment center in California five years ago in San Bernardino, and marked the milestone with a celebration this morning, Monday, Oct. 23, at Cajon High School with local dignitaries, business representatives and school officials.
Amazon Director of Operations Sumegha Mahankali announced the online retail giant's donation of $50,000 to San Bernardino City Unified School District to launch the new Amazon Logistics Pathway Program, the first of its kind in California, and another $50,000 to other local organizations.
"San Bernardino has a special place in our hearts, and we want to continue in the spirit of sharing and giving back to the community," Mahankali declared from a stage lined with dozens of Cajon Cowboys.
The Amazon Logistics Pathway Program will be implemented at Cajon High, from 9th – 12th grade, and provide students the opportunity to gain academic and technological education while obtaining real world application off-site at Amazon.
"This (pathway) will become a national model," asserted SBCUSD Superintendent Dr. Dale Marsden. "Amazon is not only preparing students for high demand, high growth and high wage industries, it also helps with youth employment as they transition to college."
Amazon readily employs college students allowing flexibility to accommodate class schedules, and offers a tuition reimbursement program.
"We are very grateful for Amazon's investment in the community and in our future leaders," said San Bernardino Mayor Carey Davis. "This pathway program offers students a kick-start in a career in logistics, and broadens the scope of opportunities available to them."
Other local organizations that received donations from Amazon this morning were Feeding America – $20,000; San Bernardino Library Foundation – $10,000; City of San Bernardino Parks, Recreation and Community Services Department – $7,500; Boys & Girls Club of San Bernardino – $7,500; and the Inland Empire Children's Book Project – $5,000.
Parks and Recreation Director Jim Tickemyer indicated the funds would be allocated toward a new scoreboard in the Rudy Hernandez Community Center gymnasium as part of the department's efforts to re-launch many of its children's sports programs.
"My first experience with Amazon was on Arbor Day when 50 – 75 employees volunteered to help us plant trees at Lytle Creek Park," related Tickemyer. "It's very gratifying when a community partner sees and appreciates what we're doing and gives back to the department."
---
Join our newsletter for weekly wrap-ups of our community coverage, exclusive advertising opportunities and local business specials!