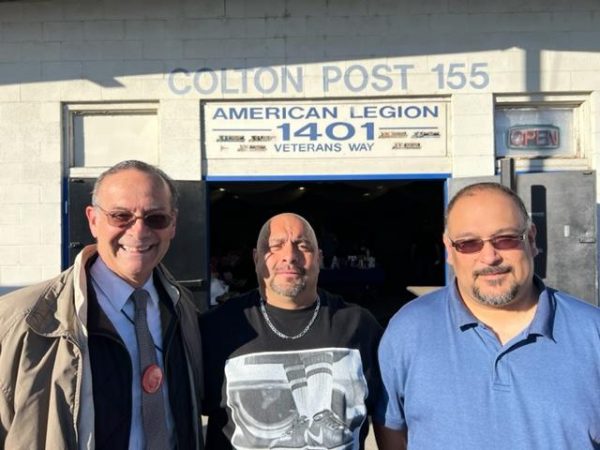 Last Saturday, members of the public were invited to the American Legion Hall @ 1401 Veterans Way to take part in one of their community outreach events. Over 20 vendors came from the region, a dozen bikers brought their custom motorcycles, and the women's auxiliary cooked up their best spaghetti recipes, all which provided plenty of opportunities for curiosity seekers, interaction and engagement.
According to the organizer, Matthew Hernandez, this was a "community gathering." For the last two years, Hernandez has been the Bar Manager for the American Legion and during that time, has earned a growing reputation of community outreach in order to bring "synergy" to the American Legion Post 155. This event did not disappoint.
Commander Steve Mestas celebrated the event as a complete success, and welcomed those who came to visit. He also encouraged them to take part in the activities, including the sampling of the eight delicious spaghetti dishes on display for the annual spaghetti tasting competition.
The entire gathering brought many people together and included the vendor booths, the bike show, the spaghetti competition, and of course the bar, where dozens came to relax and chat up the events of the day. In addition, DJ Luke Johnson provided great music for everyone to enjoy, and took many requests to the delight of the attendees.
This event was just one of the many events planned by Hernandez who has set his sights on more events this year. "The idea is to bring people to the Post," says Hernandez enthusiastically, who recalled previous efforts that included a pizza night, taco night, karaoke, and a Quartermaina fundraiser.
As the momentum continues to build, the American Legion Post 155 is fast becoming an active host of community events. Members of the public are encouraged to take note of events, current and future, which are usually posted on social media. For more information about the American Legion Post 155 and their events contact Commander Steve Mestas @ 909-709-7459 or Manager Matthew Hernandez @ 909-522-7867.
Congratulations to Matthew Hernandez and the American Legion Post 155 for hosting this successful event. Their efforts in providing an enjoyable experience not only contributes to the quality of life in our community, but is very much appreciated.
For more information about CITY TALK, various community events and groups, Colton history, the trash clean-up project, the G-Team, prayer list, history briefs, Veteran Spotlight, Church Spotlight, Business Spotlight, U.S. Flag Watch, neighborhood meetings, community projects, or the online live-stream programs, contact Dr.G @ 909-213-3730. Questions and comments are always welcome.