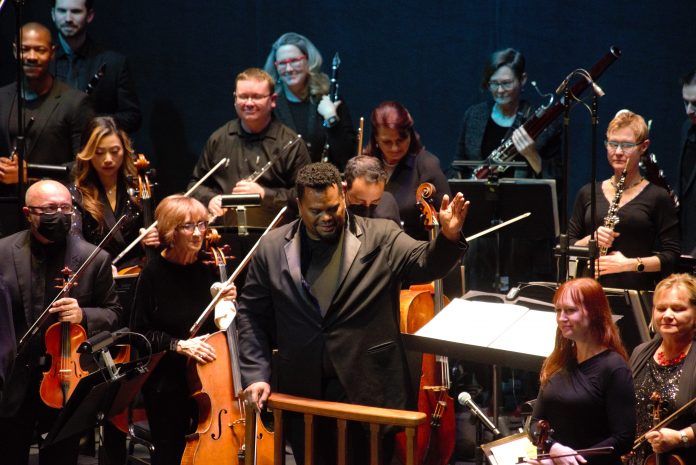 The San Bernardino Symphony Orchestra will open their 94th concert season on Saturday,
February 18, 2023 at 7:30 p.m. with "Mozart, Simon, and Shostakovich." To be performed at
the historic California Theatre of the Performing Arts, the concert will include three different,
but related pieces of music representing three distinct musical periods.
Stated Music Director and Conductor Anthony Parnther, "Our very own San Bernardino
Symphony continues to grow in size, prestige, and technical excellence. By personal request of
many of our core musicians, I selected Dmitri Shostakovich's Fifth Symphony to open the 2023
season with a resounding bang. In addition to Beethoven, Tchaikovsky, Prokofiev, and Mahler,
Shostakovich penned one of the most important and recognizable Fifth Symphonies of all time.
Works of this nature require a large and virtuosic group of musicians, and we are so thankful to
our presenting sponsors, San Manuel Band of Mission Indians, for helping us realize and
accomplish such a feat."
In addition, Pianist Dynasty Battles will perform Mozart's Piano Concerto No. 20 in D minor at
the concert.
"Pianist Dynasty Battles is taking the classical world by storm with his charisma and
musicianship," shared Maestro Parnther. "We are so fortunate we were able to collaborate
with him on this upcoming concert where, in addition to his outstanding Mozart, we will be
treated to a world premiere encore."
Hailing from Philadelphia, Pennsylvania, Battles is a visionary concert pianist with a unique
approach to his blend of music. Battles has won a variety of accolades on regional and national
levels. He has been featured together with soprano Marietta Simpson, in the Philadelphia
Inquirer, and on music critic David Patrick Stearns' radio program, "Creatively Speaking", on
Philadelphia's WRITI (90.1 FM).
Battles was invited to play composer George Walker's Piano Sonata No.1 in a private
engagement at the distinguished composer's home. He recently performed a piano quartet at the Walt Disney Concert Hall at the invitation of LA Philharmonic. Battles soon after performed
at Barbican Centre Hall in London in a program led by the LA Philharmonic music director,
Gustavo Dudamel. He was also a solo performer at the 2017 Colour of Music Festival in
Charleston, South Carolina.
Battles currently studies under Leon Bates, a protégé of the legendary Natalie Hinderas. He also studies counterpoint and harmony and analysis with Jonathan Coopersmith, Chair of Musical Studies at the Curtis Institute of Music. He began his studies at Settlement Music School and received his Bachelor's degree cum laude in Piano Performance at Temple University, where he was a student of Harvey Wedeen and a recipient of the Esther Boyer College Scholarship.
Interestingly, the Mozart piano concerto to be performed was a favorite of Beethoven whose
Seventh Symphony was the inspiration for award-winning composer Carlos Simon's Fate May
Conquer, the third piece scheduled for this historic opening concert.
Simon is a native of Atlanta, Georgia whose music ranges from concert music for large and
small ensembles to film scores with influences of jazz, gospel, and neo-romanticism. Simon is
the Composer-in-Residence for the John F. Kennedy Center for the Performing Arts and was
nominated for a 2023 GRAMMY award for his latest album, Requiem for the Enslaved.
Simon earned his doctorate degree at the University of Michigan. He has also received degrees
from Georgia State University and Morehouse College. He is an honorary member of Phi Mu
Alpha Music Sinfonia Fraternity and a member of the National Association of Negro Musicians,
Society of Composers International, and Pi Kappa Lambda Music Honor Society. He now serves
as Assistant Professor at Georgetown University. Simon was also a recipient of the 2021 Sphinx
Medal of Excellence, the highest honor bestowed by the Sphinx Organization to recognize
extraordinary classical Black and Latinx musicians, and was named a Sundance/Time Warner
Composer Fellow for his work for film and moving image.
Ticket Availability and Performance Location
Single tickets for this and all SBSO concerts are available online at
www.sanbernardinosymphony.org or by calling the box office at (909) 381-5388. Box Office
hours are 10 a.m. to 2 p.m., Monday through Friday. Single tickets prices range from $20 – $100 with students and active military always just $15. Money-saving season subscriptions – in
bundles of seven, five, or three, are also currently available.
The historic California Theatre is located at 562 W. Fourth Street in downtown San Bernardino.
Free, lighted parking is available directly across from the venue. Doors open for this concert at 6 p.m. Tickets are also sold at the venue on concert night; however, their availability cannot be
guaranteed.