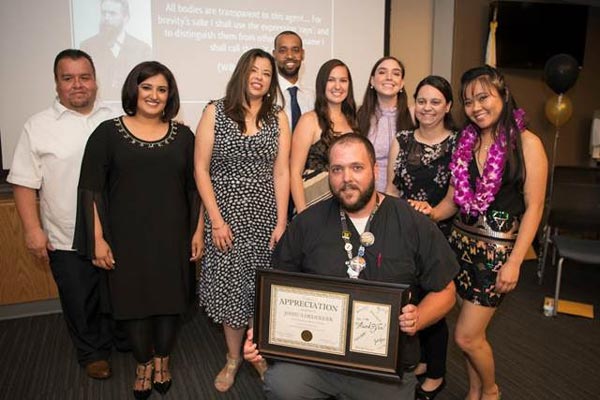 Arrowhead Regional Medical Center (ARMC) announced today the eight new radiologic technologists who have graduated from the Medical Center's School of Radiologic Technology. The Class of 2018 joins a group of more than 320 radiologic technologists who have graduated from the program since its inception in 1975.  As the only hospital-based program in Southern California, all didactic and clinical training is held at ARMC.
"This is a growing field and one that is growing faster than average for all occupations," stated Melissa Huynh, MSRS, RT, program director of the School of Radiologic Technology. "We are fortunate to be able to offer this school right at the Medical Center, enabling students to receive a great deal of hands-on training in a hospital-based setting, and we are proud of our 2018 graduates."
Upon completing the 22-month full-time program, each of the students passed the National Board Exam through The American Registry of Radiologic Technologists (ARRT). Job duties in this career include performing diagnostic imaging exams and administering radiation therapy treatments. Areas of study rotated the students through surgery, pain clinic, orthopedic clinic, fluoroscopy, diagnostic, and mammography. Because ARMC is a Trauma Center, students were able to receive heightened hands-on experience during their training.
Huynh delivered the commencement address at the graduation ceremony on June 12, followed by ARMC Hospital Director, William Gilbert, and others who commended the graduates for their commitment and success. Huynh, along with Debbie Anderson, clinical coordinator, presented the students' diplomas and pins.
For additional information about ARMC's School of Radiologic Technology call (909) 580-3540, or visit https://www.arrowheadmedcenter.org/mpRadWelcome.aspx.
About Arrowhead Regional Medical Center ARMC is a 456-bed university-affiliated teaching hospital licensed by the State of California Department of Public Health, operated by the County of San Bernardino, and governed by the Board of Supervisors. The hospital, located on a 70-acre campus in Colton, California, operates a regional burn center, level II trauma center, primary stroke center, a behavioral health center, five primary care centers, and provides more than 40 outpatient specialty care services. ARMC is helping to achieve the Countywide Vision by addressing the community's needs. For more information on the Countywide Vision, visit: www.sbcounty.gov/ vision. For more information about ARMC  visit www.arrowheadmedcenter.org. Follow ARMC on Twitter at @ArrowheadRMC for important announcements and updates, and on Facebook at www.facebook.com/arrowheadregional. ARMC is located at 400 N. Pepper Avenue in Colton, and can be reached at (909) 580-1000.