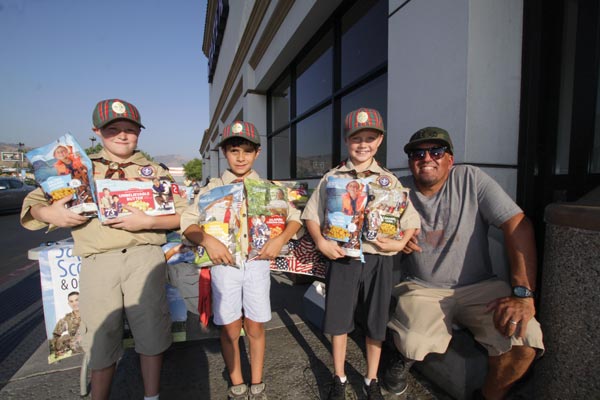 For over 35 years, the Boy Scouts of America (BSA) have been selling popcorn to help raise funds, providing youth an opportunity to learn valuable skills such as team work, goal setting, management, and salesmanship. The BSA popcorn season started this month and will continue into September for a few more weeks.
On Wednesday, August 23, Scouts from Troop 247 were out in front of several supermarkets in San Bernardino, including the Stater Bros. on 40th Street. Troop 247 operates out of the San Bernardino Elks Lodge. The scouts encouraged their friends and families to come out and purchase various popcorn products.
Amanda Benvenuto of Redlands who works as a teacher at Arrowhead Elementary School, came by to visit the Boy Scouts and to support her students working the sales booth
Parents of the boys in the scouting program are encouraged to support their children in the event. Matthew Hallmark (8) from Arrowhead Elementary School, Julian Palomino (9) from ASA Charter School, and Hunter McLees (9) from Palm Avenue Elementary School are all Webelos Scouts. Anthony Palomino joined his son Julian during the sales event.