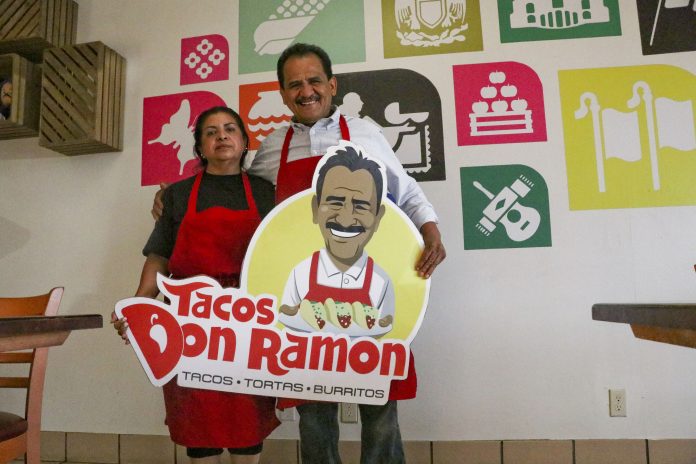 Overcoming adversity is usually what defines success. Ramon and Maria Rodriguez understand to triumph in the food industry, you cannot give up on your dreams.
"The goal was always to not work for anyone," said Ramon. "We wanted to work on our own account."

The Rodriguez family–after spending several years working and selling tacos from street carts in Highland–opened Tacos Don Ramon on the corner of Mt. Vernon Avenue and 7th Street on September 16. They commemorated the restaurant's grand opening by giving away free tacos to the first one hundred customers that made a purchase.
It was a long time in the making for the Rodriguez family, who lost a previous taco establishment during the economic recession of 2008. As a result of losing their business, the Rodriguez's made it a routine to set up on street corners in Highland to sell their popular Mexico City-style tacos.
Despite receiving citations from code enforcement, both Ramon and Maria believed they were making an honest living. Nevertheless, they opted to make their business "more formal."
"It wasn't easy," Maria explained. "Aside from the costs, it's also a huge commitment. Before it was just my husband and I working together. Now we're responsible for several workers. We're doing the best we can with what we know what to do."
Renovating the property on 739 North Mt. Vernon Avenue was an arduous task that was done through the help residents, explained Maria. Many loyal customers pitched in to paint the walls of the restaurant and volunteered for many weeks to get the location back in shape. The Rodriguez's said they wouldn't be in the position they are without their clientele and friends.
"This placed was very damaged," Ramon said. "We had to redo everything. The walls were painted, the roof needed to be retouched, and there was no water or electricity. We thought it would take an year to get this place open. Our restaurant's opening was truly a community effort."
Aside from tacos, Tacos Don Ramon sells burritos, tortas, quesadillas, and mulitas. Customers can select from various meats–carne asada, chicken, pastor, chorizo, pork tongue meat, tripe, and others.
Their son, Angel Rodriguez, who serves as the Director of Marketing, Public Affairs and Government Relations for the San Bernardino Community College District, said he's proud of his parents.
"They've taught us how to work hard," he said. "[My parents] been the example of hard work. They have the opportunity to make this corner of the world a little bit better."
                                                   Hours
Mon

5:00 pm

–

11:00 pm

Tue
Closed
Wed

5:00 pm

–

11:00 pm

Thu

5:00 pm

–

11:00 pm

Fri

12:00 pm

–

12:00 am

Sat

12:00 pm

–

12:00 am

Sun

12:00 pm

–

12:00 am
---
Join our newsletter for weekly wrap-ups of our community coverage, exclusive advertising opportunities and local business specials!