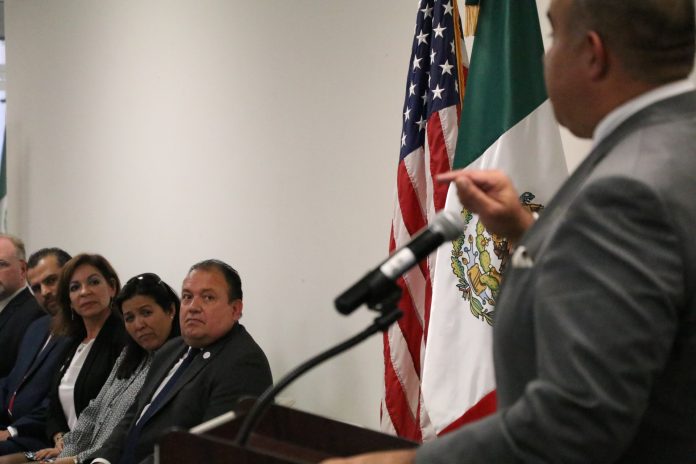 The Mexican and Guatemalan Consulate helped launch a new entrepreneurs program Tuesday that will help aspiring and current small business owners stay on track.
Local and regional leaders were joined by Mexican Consul Salomón Rosas Ramirez and Guatemalan Consul Billy Munoz for a ceremony to recognize the value of helping the local economy grow.
"We're told that we are a burden to this country," said Munoz. "But on the contrary, Latinos are a huge help to the economy. And we are hungry to contribute to our adopted homeland that is the U.S."
The entrepreneurs program lasts about eight weeks and aims to teach how to establish, finance, and grow a small business. Since initiating the program in 2016, the program has expanded to Orange, Riverside and San Bernardino Counties and has helped more than 80 entrepreneurs establish their own enterprises.
The current cohort consists of 26 men and women that will receive an in-depth training on how to deal with an Employee Identification Numbers (EIN), how to file business licenses, and how to manage finances for the long term.
America' Small Business Development Centers (SBDC) and the Inland Empire Small Business Development Center evolved the entrepreneurs program from an initiative to help women dealing with domestic violence into an effort that helps uplift the entire Latino community.
"This will be a lot of work. I am not going to lie to you," said SBDC local representative Robert Usher. "But you'll be happy with your success afterward. You'll want to recommend this to friends and family."
Many small business owners who have participated in the program say they have learned a lot from the lessons of business leaders.
"This program has been invaluable," said small business owners Mayela and Jaime Garza. "The most important thing has been knowing how to take a detailed logistics and be a business leader."