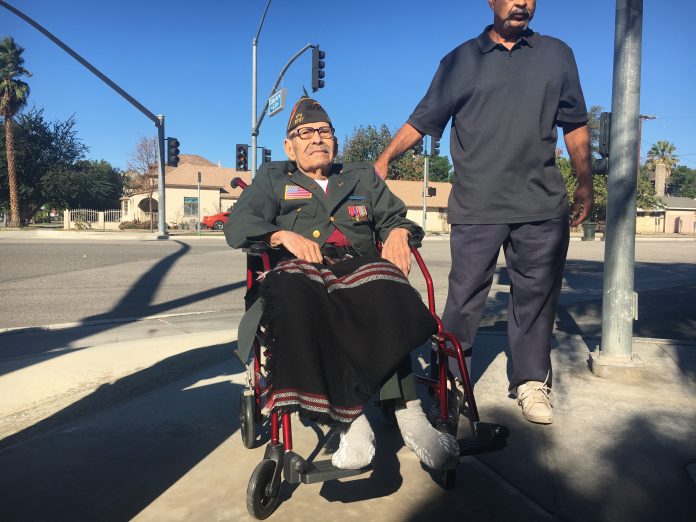 Encountering discrimination and living in near poverty were the experiences of many Mexican and Mexican American (Chicano) veterans from Colton.
Gilbert Zamorano, 93, recalls a painful memory he had en route to Little Rock, Arkansas for Army basic training in 1943.
"I remember seeing a sign that said, 'No Dogs or Mexicans Allowed'", Zamorano expressed back in February 2015. "I began to cry. I couldn't understand why these people were so mean."
Yet in the face of such bigotry and bitterness, Zamorano served with distinction in the European Theatre of World War II–suffering a wound in Toul, France on September 16,1944. He served in General George S. Patton's Third Army.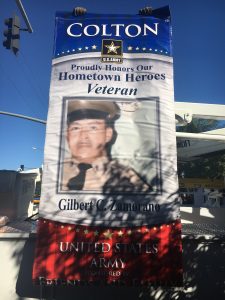 On Wednesday, Zamorano was honored with a military banner by family, friends, and community residents. The banner was installed on the corner of Colton Avenue and G Street–several blocks away from Zamorano's home.
Dan Flores Sr., the man responsible for obtaining a military banner for Zamorano, expressed his delight for the longtime Colton veteran.
Zamorano was having trouble finding the means to pay for the $475 banner and asked several people to help him. Flores felt obliged to respond.
"I made a call out to the community and they answered," Flores said. "Everyone worked together."
Zamorano expressed his gratitude to the soldiers who didn't make it back home from the war.
"I'm glad that I made it," said Zamorano. "If I could do it again I would. "[The soldiers] are the ones who are the real heroes–the ones who didn't make it."