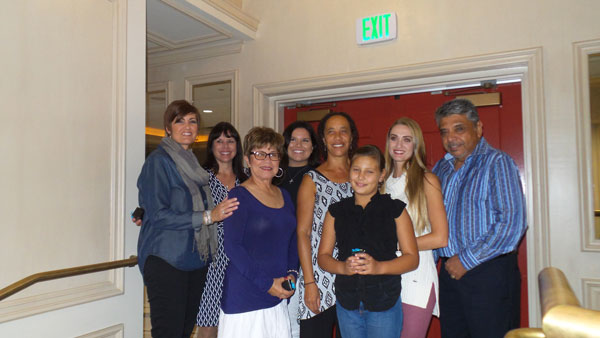 Under the roof of the Historic California Theatre Assistance League of San Bernardino announced the theme of their 56th Annual Signature Headdress Ball, "A Salute to San Bernardino" on the evening of October 3rd. This year's Headdress Ball co-chairs are Carol Dixon, Jennifer Hobbs, and Kristine Smith. The annual event will be held at the National Orange Show in San Bernardino on Saturday, April 22, 2017.
There will be a matinee performance at 10:00 a.m. that will include lunch and the presentation of the headdresses. The cost to attend the matinee is $65 per person until January 9, 2017 and $75 beginning January 10, 2017. The evening gala celebration will begin with a cocktail reception at 5:30 p.m. sponsored by the Signature Club. Tickets for the evening black-tie performance are $135 per person until January 9, 2017 and $150 beginning January 10, 2017. Tables seat 10 for the evening dinner performance.
This year's theme "A Salute to San Bernardino" will feature Assistance League members and guest models showcasing headdresses that encompass the history of San Bernardino from the life of its indigenous people, the National Orange Show, the railroad, science and technology pioneers, the Historic California Theatre, the Swing Auditorium, an Academy Award winning costume designer, the beginnings of the fast food industry, education, and a survivor from last December's terrorist attack in a special tribute to those who make San Bernardino Strong.
"Our city is one of firsts that have impacted the entire world. San Bernardino's industries are far reaching. One of the catalysts for the idea for this year's theme was the events of December 2, 2015, when the lives of 14 of our friends and colleagues were taken from us too soon. Our community has emerged as San Bernardino strong and we celebrate the fact that despite great loss, our city has emerged from the ashes to rise again like a Phoenix," said Kristine Smith co-chair.
The presentation of the headdresses is a 56 year-old tradition that has grown more elaborate every year. Community patrons agree to sponsor these magnificent designer creations with all of the proceeds going to charity. The headdresses can weigh 10-50 lbs. and can stand at a height of 5'-15' before being placed on a model's head. The headdresses are designed by local florists and artisans and they must be carefully balanced so they are wearable.
This year's designers include: Martin Flores, Derrick Vasquez, Albert Villegas, Ed Mendoza, Gary Longoria, Judy Coates, Andre Harrington, Brad Seeley, Pam Lechuga, Allison Jure, and Carrie Schmidt. This year's headdress models will include Assistance League® members: Cathy Bechtel, Denise Benton, Lindsay Boyd, Ashley Burroughs, Mindy Erickson, Erica Hobbs, and Holly Preston. Representing Les Confreres, an auxiliary of Assistance League® is Geri McQueen. Special guest models that will be representing community interests include Alaina Ramos-Mathews, Julie Swan-Paez, Jade Seitz, Brooke Alejandre, and Tania Quezada
The models who wear the headdresses are generally chosen based on their contributions to the San Bernardino chapter of Assistance League® and their community service. The members with the strongest service records are honored by the membership by being given the opportunity to model a headdress. For the past four years, this honor has extended to community representatives as well. The models then commit to rehearsal schedules that last for 10-12 weeks as they practice wearing tightly cinched corsets that brace the headdresses and distribute the weight primarily on their hips. A model must learn to balance the headdress while dancing in a fully produced number.
All proceeds from the matinee and the evening performances will go to benefit the children of San Bernardino and surrounding communities through the support and funding of the Dr. Earl R. Crane Children's Dental Health Center and Operation School Bell®, a program that provides clothing for children in need. Last year the Ball raised over $100,000. This year the organization is hoping to achieve a similar goal.
For more information on sponsorships or to purchase tickets contact Elsa Carlton at (909) 792-8460 or Bobbi Simenton at (909) 862-0732or you may send your reservations to 3617 Citrus, Highland, CA 92346. Make checks payable to Assistance League of San Bernardino.