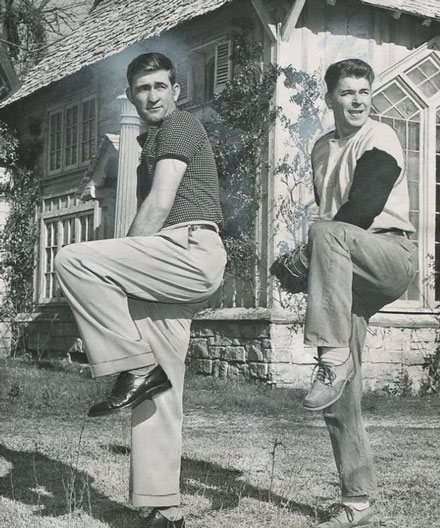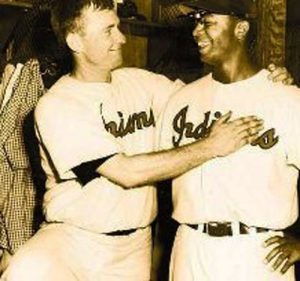 When the Cleveland Indians last won a Major League Baseball World Series, Bob Lemon led them to the 1948 crown. Before he died, Lemon left many one-of-kind stories. He remains the only San Bernardino native to be selected into the Major League Baseball Hall of Fame. He would not have made it to Cooperstown if not for the wise decision by Cleveland manager Lou Boudreau who insisted that Lemon turn in his fielder's glove and become a pitcher.
In his biography, Lemon says he strongly opposed the change since he wanted to play every day. He could play third, shortstop, and actually made the Indians as a centerfielder. But Boudreau realized that Lemon was not a consistent hitter. Boudreau's wise choice led to Cleveland's 1948 World Series championship as Lemon finished the season with a 20-14 record, including pitching ten shutouts, 20 complete games and throwing a no-hitter. Lemon topped off the season by winning two games in the World Series against the Boston Braves.
In winning the 1954 American League championship, Lemon was part of what is called the greatest starting rotation in baseball history. It included fellow hall-of-fame members Bob Feller and Early Wynn. Mike Garcia was the fourth member and often pitched better than his great teammates. Along with Feller and Lemon, Cleveland's 1948 staff had Gene Bearden and another hall-of-fame member Satchel Paige.
Lemon was a standout as a pitcher/shortstop at Long Beach Wilson High School, good enough to be named the 1938 Southern California Player of the Year. The late reporter Claude Anderson said Lemon moved from San Bernardino when he was about 12. Anderson said he played local city recreation sandlot baseball in the pre-Little League era.
His father, Earl owned an ice company in San Bernardino and bought a home on 21st and D Street. Earl lemon was one of the best semi-pro players in the greater San Bernardino Valley where he played on the San Bernardino Colts and then the Elks from 1914 to 1921. Unlike his son, Earl never tried his strong arm as a pitcher. Like his son, he could not hit Major League pitching on a consistent basis. Claude Anderson said Earl Lemon bought the best equipment available for his son.
Bob Lemon went on to play 13 major league seasons, all being in Cleveland. He did not start his career until he was 25 after serving three years in the Navy. He won 20 or more games seven times from 1948 to 1958 and was an all-star seven times. Using his sharp breaking sliders and sinking fastball, he compiled a 207-128 record with a career 3.23 ERA and three times was named Baseball Pitcher of the Year.
He ranks number two all-time among pitchers with 37 career home runs. In his first five years at Cleveland he didn't lose his hitting touch by averaging .280 in 480 at-bats and struck out only 45 times. In his last season in Double-A, he hit .286 with 21 home runs and 80 RBI's. He was elected to the Baseball HOF In 1976.
Lemon remained loyal to San Bernardino during his entire baseball career. One week after winning the 1948 World Series, he pitched four innings in a benefit all-star game at Perris Hill Baseball Park (now Fiscalini Field). Just before that 1948 season Lemon appeared at Perris Hill Baseball Park in an exhibition game with the Indians against the St. Louis Browns. Bob Feller and Lou Boudreau played and HOFer Hank Greenberg retired after the game. A flyer promoting the game said local KCSB-TV broadcast the game with play-by-play by Ernie Peeler.
The teams came back in the spring of 1949 to play before 4,000 fans and VIP's like Bing Crosby, Branch Rickey, Frankie Frisch, Leo Durocher, and John "Chief" Meyers. After the 1949 season Lemon brought another all-star team to San Bernardino to play the Satchel Paige Negro League All-Stars with players like "Cool Papa" Bell, Buck O'Neil, Elston Howard, and Larry Doby who had just been purchased by Cleveland. Ralph Kiner and Dick Williams also played.
Lemon would assemble teams of local all-stars. Gordon Maltzberger, Dee Fondy, Jack Wilkins, Ray Fortier, Ben Gregory, John Fiscalini, Bob Bundy, Del Crandall and Jerry Waitman. He would combine them with his Cleveland teammates; Ray Boone, Mike Garcia, Minnie Minoso, and Bobby Avila. The left-handed batting Lemon electrified the hometown crowd in 1949 by blasting two home runs over the scoreboard.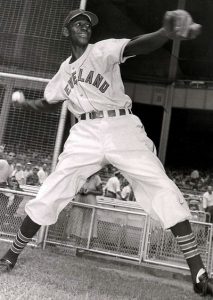 Sachel Paige returned to San Bernardino with his all-stars in 1950 to play an exhibition against a Lemon team. San Bernardino Mayor James Cunningham proclaimed Oct. 18, 1950 as "Bob Lemon Day." Local promoter Stan Newlin of the Argonaut Club raised the finances to arrange the game. Only 950 fans showed, Paige could not pitch as advertised and from then no reports of those great all-star games could be found.
San Bernardino High School graduate Mel Nelson told that Perris Hill Ball Park was a stop for many "barnstorming off season games" that matched local all-stars against big league professionals. "I played in one of those games in 1954 but not against Bob Lemon or Satchel Paige. "Nelson later earned World Series rings in 1965 with Minnesota and 1968 with St. Louis. "When I was in the Angels organization, Bob Lemon was a pitching coach in 1963 and later was my manger in Triple-A Hawaii." Nelson was a teammate of Paige at Triple-A Portland in 1961 and played against him in the Triple-A International League.
After his retirement as a player, Lemon often came back again to San Bernardino as a roving pitching coach for the 1961 expansion Los Angeles Angels, who came to play their Triple-A Hawaii Islanders in spring training games. Lemon managed the Angels B team in 1962 at Perris Hill Ball Park. He worked up to major league manager in 1970 with Kansas City, then White Sox, and then Yankees for five years. Lemon was named American League Manager of the Year twice and won a World Series ring as manager of the 1978 Yankees.