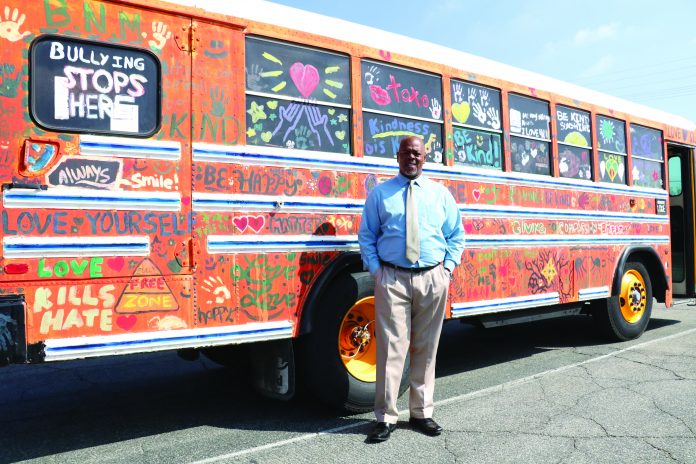 The Colton Joint Unified School District is celebrating National Bullying Prevention Month in a unique way.
On Wednesday, Superintendent Jerry Almendarez and various district members launched their Kindness Campaign by hopping on their "Kindness Bus" to visit students, faculty, and staff at Michael D'arcy Elementary School in Fontana.
The orange bus, painted by elementary, middle, and high school students throughout the district, is a "rolling billboard" that displays messages of positivity and respect.
District Transportation Erick Richardson is the person responsible for the bus. He believes the bus will help shed light on an issue that may not be visible to some.
"This gives students the opportunity to express themselves," Richardson said. "The focus is on bullying and how we can prevent it. Students bring attention to an issue that may have not been addressed. And that's the main factor."
According to district spokesperson Jacqueline Paul, the approach is directly in line with the Positive Behavioral Interventions and Supports (PBIS) framework of teaching, focusing on, and acknowledging, positive behaviors while providing tiered interventions to address inappropriate behaviors.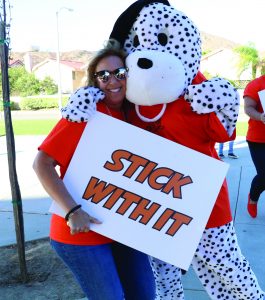 Assistant Principal Daniel Trevarthen said D'arcy has experienced a substantial decrease in suspensions since PBIS was implemented at the school two years ago. Last year, D'arcy suspended only three students.
"This model works," he said. "When we teach our students to be nice, respectful, and humble, we see a change in them. They want to be taught this kind of stuff."
Sixth grader Giannela Desimoni, 11, said she's glad the school is raising awareness on bullying and promoting kindness.
"We need a day of peace because there's too much negativity," she said. "I like to give compliments to my friends because it makes them feel good."
Fifth grader Mark Gonzales believes a kind gesture could brighten a person's day. "I think being nice is the best thing a person could experience."
Colton Joint's school sites will be actively participating in numerous kindness activities that promote unity, respect, kindness, inclusion, and acceptance throughout the week. The Kindness Bus will travel to school sites throughout the rest of October and will participate in the Colton High School Homecoming Parade on Friday.
"We know that wellness, including emotional wellness, is critical to student success now and into the future," said Almendarez. "We hope that fun and meaningful programs such as the Kindness Bus will leave a lasting positive impression with our students and encourage them to share kindness with others."