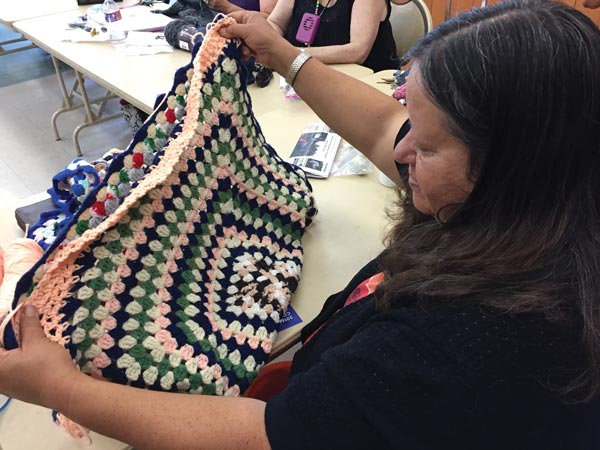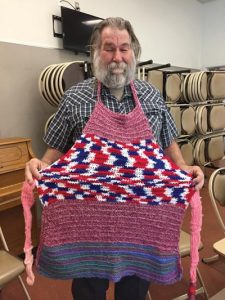 Smiles will be brought to hundreds of patients at Arrowhead Regional Medical Center thanks to members of the Rialto's Crochet Club.
Busy fingers looped, stitched and patterned more than 300 items to gift to newborns, children and adults at the hospital. Items included baby blankets and clothing, booties, beanies, bibs and even crocheted toy monsters called Uglees.
Pat Redinger, director of volunteer management at Arrowhead, personally picked up the one-of-a-kind donated items Monday at the Grace Vargas Senior Center.
Volunteers at the hospital will deliver the items to the patients, "which always come as a nice surprise," she said.
"We are so lucky to be on their list of groups they choose to donate to," Redinger said. "They are so dedicated to giving and we all appreciate their time and work."
Arrowhead has received donations from the club for a few years now. Every three months, the club selects four charities a year to receive the handmade items, which gives members about three months to complete the projects to gifts.
Judy Mace, president of the club, said a local assisted living facility and a veterans hospital are next on the list.
"Between our charities and the projects for our families, we're busy," she said.
And club member Mary Sherburne says it's all worth it as "each item is made with a little bit of love," especially the helmet covers she was knitting as a side project to donate to soldiers.
"I love it," she said. "Everything I make is donated, it's my way of being active and giving back."
The Rialto Crochet Club meets at the Grace Vargas Senior Center from 9 to 11 a.m. Mondays and Fridays. All skill levels and crafters are welcome.
To learn more about the club, call the center at 909-877-9706.