Rialto Fire Prevent drownings, practice water safety
2 min read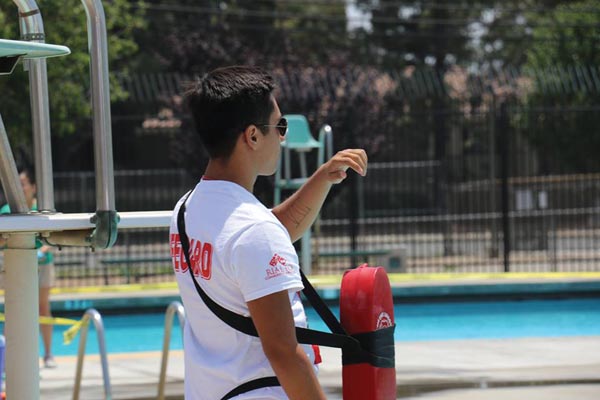 With summertime in full swing, sunshine and triple-digit temperatures will draw many to pools and oceans to find relief from the heat.
But one thing to remember, says Rialto firefighter Matt Payne, is to "always have layers of protection and layers of prevention" when it comes to safety in and around water.
Don't rely solely on barriers, like fences, gates or walls near a pool or spa., he said.
"Be vigilant. "Remember the ABC's of water: active adult supervision, barriers and classes preparation.
Payne spearheads the drowning prevention and education program for the department and recommends designating a "water watcher" during pool parties and anytime swimming or being around open water is involved.
"Keep your eye out," he said. "That doesn't mean play games on your phone or scroll through social media while sitting by the pool or at the beach. There's no substitution for constant supervision."
Free wearable water watcher tags are available to residents at the stations to encourage the safety practice. "
We want everyone to enjoy water activities and safety should always remain a priority," he said.
Summer months account for 80 percent of drownings or near drownings, Payne said. But with those layers of prevention and protection, "drownings are 100 percent preventable."
Last year
Payne introduced a water safety program — Stewie the Duck Learns to Swim — 10 years ago after Rialto accounted for nearly 50 percent of fatal drownings in the county between 2005-2006. On average, there were six to seven fatal drownings in the city with 13-14 near-drownings a year, department officials said.
The program teaches first graders water safety rules through a catchy song "Stewie Learns to Swim." Annually, firefighters take to all Rialto first grade classrooms and read the book to children.
Since they started, no child going through the program has drowned, Payne said. "And that's reality that it's working. It's those safety layers of developing good behavior in young children."
Another layer of protection to add are swimming lessons for children and adults.
The city's Community Services Division offers group and private swim lessons year-round. Whether you're a beginner or a novice swimmer, everyone can benefit from the lessons, officials said.
"Practice those layers," Payne said. "I can't say it enough, drowning is 100 percent preventable."