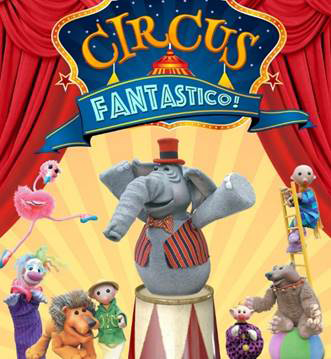 As part of the San Bernardino Public Library's summer events, the Inghram Branch Library will be hosting Luce Puppet Company on Saturday, June 15, 2019 at 2 PM. The Inghram Library is located at 1505 W. Highland Ave., San Bernardino. Participants in the Summer Reading Game will get credit for attending.
Circus Fantastico! Is the biggest little circus ever to roll into town! An international cast of animal performers will charm and thrill you with the most unique circus show on earth! Cheer for Mick and Paddy O'Malley, the acrobatic Irish Ducks, swoon over Oolah Flamande, the lovely Parisian tightrope-walking flamingo, applaud for Gunki Bearski, the Russian Balancing Bear, gasp at the daredevil acts of Mr. Majesto, and more! 
Elizabeth Luce presents delightful hand and rod puppet show for families and children of all ages. All puppet shows are performed on a colorful, portable puppet stage and Elizabeth beautifully designs all of the puppets.
After earning an MFA from UCLA in set and costume design, Elizabeth worked as a professional theatre designer for over ten years. She has also worked as a graphic designer/illustrator. She has received awards for her design work in both fields, including an Emmy for her original children's video, The Mousecracker, an all-mouse puppet version of Tchaikovsky's The Nutcracker. Luce now works almost exclusively in puppetry. Puppets have always been a part of her life and she still has the first rod puppet she built when she was five.
This free program is sponsored by the Friends of the San Bernardino Public Library. For more information call (909) 887-4494 or visit www.sbpl.org or www.facebook.com/SBPLfriends/