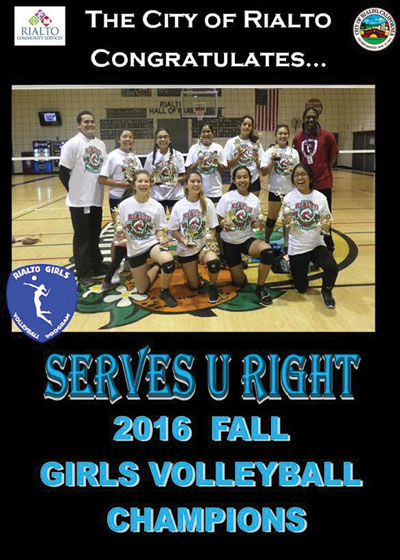 Rialto Community Services Department is kicking off the new year with a campaign to help better provide resident with information and services available.
The "Our Name Is…" campaign is a weekly highlight of events, programs and services provided through the department's five divisions — Sports and Contract Classes; Child Development inclusive of Fit4Kids and Tiny Tots; Rialto Fitness and Aquatics Center inclusive of the Sandra R. Courtney Theatre; Rialto Senior Center; and Special Events.
Kicking off the campaign is the Youth Sports programs highlighting Youth Basketball and Girls' Volleyball championship games in December. Registration information and how to participate in the programs are available by calling 909-421-4949.
The launch of the campaign came after the city's decision to change the name of the Rialto Recreation Department to the Rialto Community Services Department in 2015.
"Although our name has changed, we will continue to provide the exceptional service Rialto residents have come to expect over the past 50 years of the department's existence. It is our goal to provide even more resources and to challenge the Community Services Department to find new innovative ways to serve the community," according to a news release from Rialto Recreation.
"The decision to change the name of the department reflects the concentrated effort to extend the scope of services offered to meet the needs of the Rialto Community."
As part of the campaign, the department will begin highlighting programs on social media and residents will see the department logo, name, and colors throughout the city and on pens, pencils, mugs, banners, shirts, totes, bottles and handy gadgets during city events accompanied with information from the department, the release said.
To learn more about the campaign or services offered through Rialto Community Services Department,call 909-421-4949 or visit the offices at 214 N. Palm Ave.