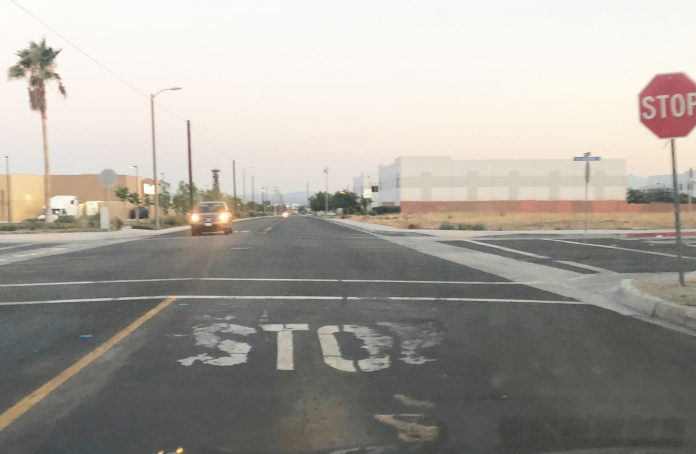 The City of Rialto has been experiencing disastrous road conditions for a number of years, which include potholes, uneven pavement and oil marks.
City council, budget advisory committee members and residents have all voiced concern over the condition of the pavements in their city.
"I deal with paving on a daily basis. To see this poor paving done out there is awful. I asked the City Engineer Robert Eisenbeisz who the pavement contractor was and he never responded," said Lupe Camacho, city of Rialto Budget Advisory Committee member.
According to Camacho, there have been about four road improvements made throughout the city in the past few years; all of which she feels were done poorly.
"On an annual basis, depending on availability, annual overlay deals with arterial roads, the budget for that type of project is between $1-3 million. In a good year we get funding. This year and next year, we're getting $1.5 million through the state from road and maintenance funding; which is population based," said Katie Nickel, Public Works Coordinator.
One of the large pavement issues is near the new Walmart on Riverside Avenue.
"Near the new Walmart on Riverside Avenue, heading southbound as you come into the intersection, as you cross the intersection there is a manhole acting as a pothole. It's right under path of travel of the wheel and you always hit it while driving. I asked about that and the public works director said they put it to grade, but it just sank," said Camcaho.
Another area where the road improvements are disastrous is on Willow Avenue.
"The pavement between Randall and San Bernardino on Willow Avenue is horrible; it's full of uneven pavement and holes," said Camacho.
Issues as such are a priority for Camacho, she is the one who recommended a focus on road improvements for the 2018-2019 budget.
"Road improvements were my specific recommendation with the Budget Advisory Committee's 2018-2019 budget. It appears to us, and for me as a project manager, when you're under haste, you don't allow the time for quality control and quality assurance. What I see lacking is the quality control and assurance. They have so many projects that are backlogged. They are throwing things at it to show progress; but they are lacking a quality product," continued Camacho.
"We have a local slurry. In that slurry, we have about five zones over a five to seven year cycle that we're taking on. This is the project we've been having issues with recently," said Nickel.
Camacho also stated that the city does not need to put rehabilitation of streets, but instead, take their time to research what is currently in the badger and what's currently programmed and revamp current and future projects.
"We have a small budget of $200,000 for curb, gutter and sidewalk. But currently, we have issues we're working through with the contractor," concluded Nickel.
Although the city is currently working through its issues with the contractor, many residents are voicing their concern over the poor pavement improvements.
"I agree with Lupe Camacho, there is also poor over site into the quality of work that is being done. All too often the city seems ok with a poor quality of work from contractors," said Budget Advisory Committee Member David Phillips.
Camacho also shared that if the road improvement inspector was a city employee and not a general contractor, the job would more likely be one of quality; because a contractor's main concern is to make money and make a job last as long as possible.
"There are also issues with manholes and water valves that have not been put to grade. There are dips in the road, there is asphalt missing from the heaviness of large vehicles," said Camacho. "Rialto may not be Beverly Hills, but we're entitled to what we pay for and staff is hiding information from us."
Many residents have been upset with the quality of work performed, especially since they're being charged a road improvement fee on their monthly trash bill.
"I have been less than thrilled with the way the pavement program has been going in Rialto. Especially since we now pay a pavement fee on my trash bill, for my trash service. I have not noticed any major improvements," concluded Phillips.
Camacho also discussed how oil is bleeding everywhere and being dispersed throughout the city. Tires are picking up oil stains and tracking it to the "repaired roads."
"I have discovered quite a few projects at least within the last three to four years that I have seen consistent bad paving. I'm not sure if it's the company they're using or the mix that they approved. When there is a paving scheduled to take place the specifications of the project will tell you what pavement to use, the inspector should be able to tell you which paving mix is best," Camacho said.
"It frustrates me. I let residents know around me that we are frustrated, the council and budget advisory committee is frustrated. Ultimately city staff needs to step up to the plate, do their research and re-access their methodology," Camacho said.
Although Camacho and many neighbors are unhappy with the completed work, she still feels that there is hope.
"Staff is not providing information because they know they made a mistake. We all make mistakes. If you don't admit you made a mistake and don't fix it, it'll happen over and over again. If they hire a new city admin, hopefully they can bring new blood and information and get the city back on track," concluded Camacho.
Rialto city staff reached out and responded to the people concerned over the road conditions.
"The issues are with slurry project and some issues are with how the slurry has held up on Willow Avenue, Lilac Avenue, Lyndon Avenue, Spruce Avenue, and on March Avenue," said Jeff Schafer, Rialto's associate civil engineer.
Schafer said the issue is that the slurry surface has not held up in this hot weather.
"We're asking them to fix it. They're doing some remediation. They're going to remove the bad pavement and put a new surface on it, the process is called micro surfacing," continued Schafer.
Schafer said that because oil is bleeding out in hot weather, the contractor is using a new type roller to remediate oil from bleeding out.
"The next step is to access the condition of the street and how much of the bad surface needs to be removed. Once we determine the area to remove, we'll tell the contractor to move forward with the work," concluded Schafer.