San Bernardino Police Department Grapples with Metal Theft: MLK Statue Vandalized, Headstones Robbed, and Catalytic Converters Stolen
2 min read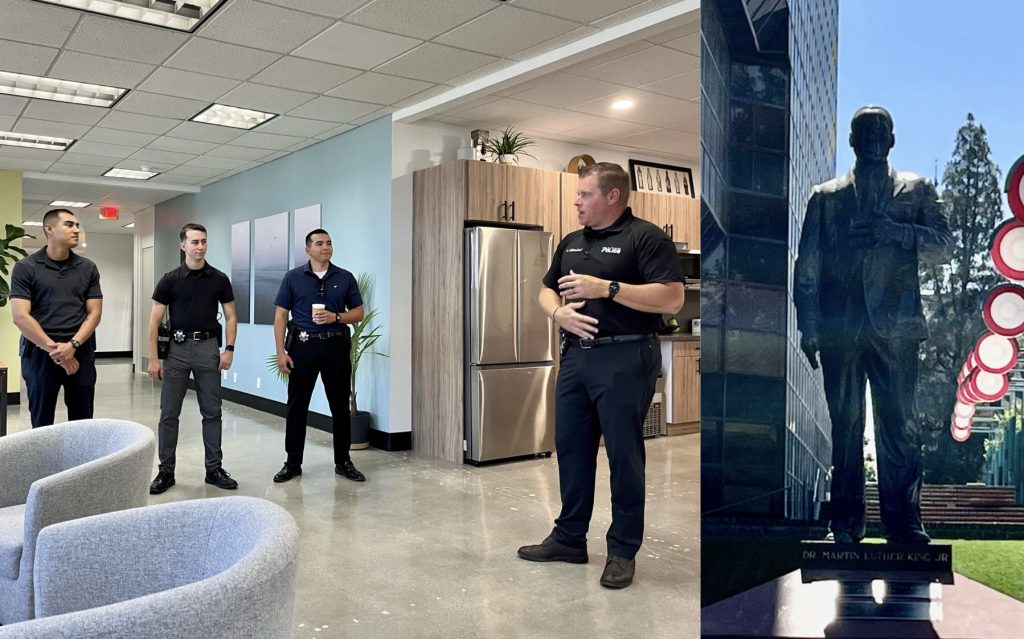 The latest "Coffee With a Cop" session, a community outreach initiative by the San Bernardino Police Department, unveiled a chilling trend of metal theft sweeping through the heart of downtown San Bernardino. The city's iconic Martin Luther King Jr. statue, cemetery headstones, and catalytic converters have all fallen prey to this crime wave.
In a shocking act of vandalism, the hand of the MLK statue, standing tall in front of City Hall, was brutally sawed off just days before Memorial Day. The hand, a valuable piece of metal, is suspected to have been stolen for its potential resale value. Despite relentless efforts, it remains missing. Undeterred by this disrespect, the city still held a memorial event at the statue's location, a testament to its resilience, as they gave the MLK statue a temporary hand. A temporary camera was installed near the damaged MLK statue and captured two juveniles meddling with the statue at 1 a.m. just days after memorial day. Still, not enough evidence was found to make any arrests.
The Home of Eternity Cemetery Congregational Emanuel, nestled next to the revamped Secombe Lake, hasn't been spared either. A series of headstones have been stolen or chipped away, likely to be sold for their metal content. While some have been recovered, many remain missing, leaving families distressed.
Adding to the city's woes is the persistent theft of catalytic converters from vehicles driven by the lure of the precious metals they contain.
These revelations came to light during the third month of "Operation Restore Downtown Hope," a police initiative that kicked off in April 2023 and is set to continue indefinitely. The operation aims to combat transient-related criminal activity, blight, and low-level crimes downtown.
"We're not enforcing homelessness. Homelessness is not a crime. But public defecation is unacceptable," stated Lieutenant Nicholas Oldendorf, Southern District Commander, in a firm yet empathetic tone.
The operation has already yielded significant results, with 10 felony arrests, 150 infractions, 195 misdemeanor arrests, 34 traffic citations, and the recovery of one gun and 30 shopping carts in just two months.
Despite these daunting challenges, the spirit within the department is soaring, according to LT. Oldendorf. Three fresh-faced officers, all recent academy graduates, were introduced at the last meeting, ready to serve the Southern and Central Districts.
Join us on July 18th for Coffee with a Cop ☕🚓@SBPD_CHIEF pic.twitter.com/nD3L27KB4j

— San Bernardino PD (@SanBernardinoPD) July 11, 2023
The following "Coffee With a Cop" rendezvous is slated for July 18th, 9 a.m., at the vibrant Studio D in Downtown San Bernardino. The meeting promises to tackle the most pressing issues plaguing San Bernardino.
Lieutenant Oldendorf, a stalwart of the San Bernardino Police Department since 2005, currently helms the Southern District and oversees operations at the San Bernardino International Airport. His extensive experience spans various special details, including the Graffiti Task Force, Multiple Enforcement Team, SWAT, and Gang Unit.