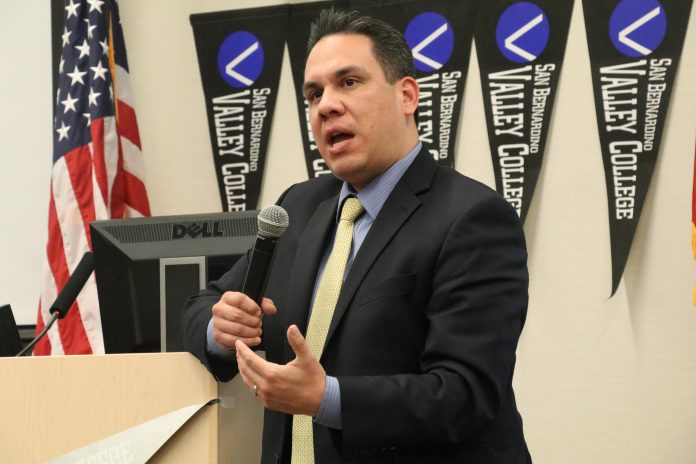 Congressman Pete Aguilar hosted a town hall at San Bernardino Valley College last Thursday to discuss issues concerning the Deferred Action for Childhood Arrivals (DACA) program and other related immigration questions.
Aguilar (D-San Bernardino) began the meeting by assuring undocumented students that his office is doing everything possible to address their concerns.
"It's important for us to be vigilant," Aguilar said to approximately 40 students in attendance. "It's important for you to understand your rights and know who's here to help."
Also present were officials from the Guatemalan and Mexican Consulates. The foreign governmental offices provided students with information regarding their legal rights.
The Department of Homeland Security (DHS) last week released a series of documents that revealed the President's immigration objectives. Trump intends to revive programs such as Secure Communities and 287(g) to find, apprehend, and deport immigrants that pose a potential risk to public safety or national security.
DACA, the program created by the Obama administration to suspend deportation proceedings and provide work authorization for immigrants brought to the U.S. as children, was notably left off DHS Secretary John Kelly's memos. Yet, these individuals may still face deportation under the new directives.
Two DACA recipients have been arrested and placed in detention by Immigration and Customs Enforcement officials this month. Both men are facing possible deportation.
Immigrant rights leaders say the detention of 22-year-old Jesus Alonso Arreola Robles of Los Angeles and 23-year-old Daniel Ramirez Medina of Seattle, Washington demonstrates the uncertainty surrounding DHS' immigration enforcement.
"[Robles' and Medina's] detention came out of a long term strategy to further criminalize the immigrant community," said Alondra Naves of the Inland Empire Immigrant Youth Coalition. "At this point any infractions, however small they may be, might make people a target."
Aguilar admitted that he's not optimistic regarding Trump's immigration priorities and hopes he and congressional colleagues could receive more answers from DHS in the upcoming weeks.
"I will continue to ask questions until they answer them," Aguilar said.
Enrique Salomon Rosas, the Chief Consul of the Mexican Consulate in San Bernardino, and staff say they are collaborating with Guatemalan, Honduran, and Salvadoran Consulates to provide resources to nationals residing in the U.S.
Both Guatemalan and Mexican Consular officials expect immigration policy to change rapidly, and therefore encourage nationals to not commit crimes or resort to the use of fraudulent documents, such as fake identification and social security cards.
"We have to keep working together to protect immigrant rights," Rosas said.
Valley College student Gaby Cruz said it's great to know Aguilar is concerned about immigrant rights issues.
"They're not blind or deaf to the dangers we face now," she said. "The panel of informed people from the consulates brought some great information in times of so much uncertainty and false information being spread."