Former boxing champ Miguel Angel "Mikey" Garcia learns lessons at LLU Children's Hospital
3 min read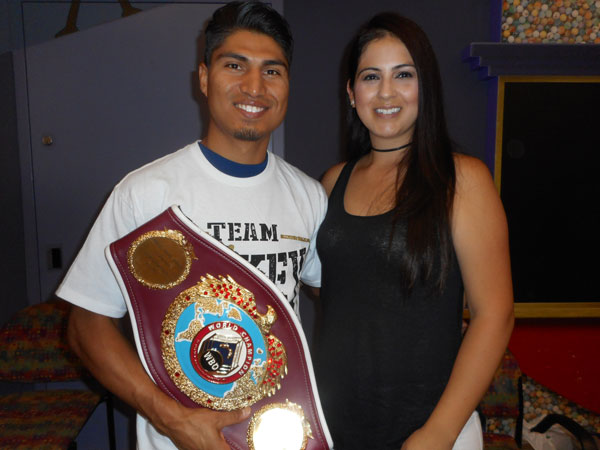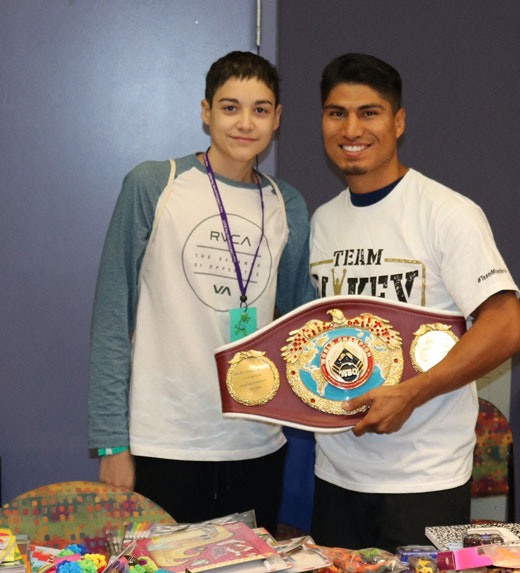 As the estimated 70 sick or injured youth at Loma Linda University Children's Hospital came up to Miguel Angel "Mikey" Garcia, the two-time World Boxing Association champion was obviously impressed by the courage of the young warriors. Garcia was among 30 civic leaders who took part in Loma Linda University Children's Hospital Community Day on Aug. 18.
Hospital spokesperson Joanna DeLeon said it was good timing that made Garcia a perfect last minute addition to the day's roster of volunteers. Garcia represented himself honorably at the two-hour festivity that included celebrity impersonators from Star Wars, Power Rangers, Spider Man, and Anna and Elsa from Disney's Frozen. DeLeon said the LLU Children's Hospital is a Level One trauma center that treats those up to age 21. Its patients can have serious injury, heart transplants, life threatening ailments, and can be in neonatal intensive care.
Many of the children were too young to know Mikey Garcia but they all appreciated his goody table filled with toys, coloring books, souvenirs, tee shirts, and hats. One 14-year-old boy recognized Garcia and lifted himself out of his wheel chair to pose for a picture. Many mothers and fathers recognized Garcia and had a photo taken with him.
Garcia and his wife Fatima have decided their notoriety has enabled them to support as many youth programs as possible. It is doubtful they will ever attend another so eye-opening. "What I do is nothing compared to what these kids are going through," said Garcia. "I didn't know what to expect today. Everybody is fighting for something. There was no way to prepare for this," said Garcia, who greeted children hooked up to oxygen, chemotherapy, dialysis, and feeding tubes. All maintaining the composure of true champions, with none revealing their physical or mental pain. One father said his daughter had undergone 62 surgeries.
"I have kids of my own and this brings it into prospective," reasoned Garcia. "I like helping people out. Maybe I can provide them a few minutes of joy." For Fatima Garcia, it was the first time she's accompanied her husband to a community event. "It's important that we give back anyway we can," said Fatima. A representative from Team Garcia said the fighter quietly helps a number of causes.
The Garcia's have children ages five and nine who saw their father fight for the first time on July 30 in Brooklyn when he knocked out Elio Rojas. It was the first time they saw their father in action. "Mikey didn't want to hide reality from our kids. But when the fight started they were crying. I won't take them again," said Fatima, who said it goes with the territory of being a fighter's wife. "That's all I've known for ten years." The Garcia's graduated together in 2004 from Pacifica High School in Oxnard, where they were honors students.
Garcia, 28, once owned the WBO featherweight and super featherweight championships while compiling a 35-0 record with 29 knockouts. He's fought in seven major title fights, each occurring at major venues and broadcast internationally. He lost his championship outside of the ring due to a contract dispute and now represents himself. Currently ranked No. 2 by the World Boxing Association, Garcia could fight for that title in Los Angeles in October against reigning WBC Lightweight Champion Dejan Zlaticanin of Montenegro.
"Garcia's doing great again. He looked good in his first fight back," said Craig Caparaz, a patient care assistant at the Children's Hospital. "He's doing a lot of good being here today. I've followed his career for seven years."
From the looks of it Garcia will probably be back at the Children's Hospital again. Perhaps next visit he'll come with a new championship belt. Either way, Garcia said Tuesday's visit will be memorable. "I'll take this with me forever."