Molina Healthcare celebrates community volunteers
2 min read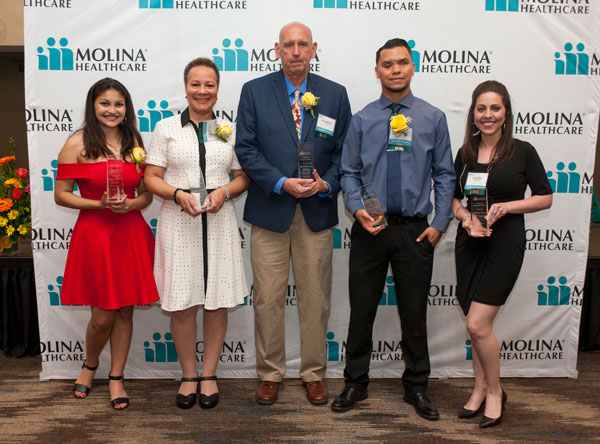 Molina Healthcare of California honored five exemplary volunteers with a trophy as well as a $1,000 grant at the 12th Annual Community Champions Awards Ceremony on April 26 that included dinner, entertainment and an award presentation.
One of those honored is San Bernardino resident and a phenomenal young leader, Vanessa Perez.
While serving as an intern at Time for Change Foundation, she volunteered her time off to volunteer with the organization's Homeless Empowerment Leadership Project, twice a week for six months.
Vanessa helped organize trainings in the park for 75 members of the community living in unsheltered conditions.
She has also served extensively at Way World Outreach Church, where she has volunteered 12 hours a week since 2006. Vanessa has assisted in feeding over 10,000 homeless families, supporting the children's ministry weekly and providing mentorship to 75 young women who are struggling with self-esteem and peer pressure.
Assembly member Eloise Reyes-Gomez recognized Vanessa on her list of 30 community leaders under 30.
Other award recipients are:
James McPherson, a compassionate and dedicated leader at Path of Life Ministries, helping the homeless rebuild their lives so they can achieve their goals. James has helped more than 100 clients with resume writing and job coaching, and has given support to more than 100 individuals in the emergency shelter and dedicated over 2,500 hours of service over the last two years.
Isabella Orozco, an impressive junior honors student in the Health Science Academy at Chino Hills High School. As a student ambassador-elect at her school she has inspired many of her peers. In the coming school year, she will be coordinating health seminars, bringing in healthcare professionals to serve as guest speakers and attending healthcare focused events.
Feliciano Godoy began to notice a need for accessibility to technology for the visually impaired while undergoing rehabilitative services for loss of sight in 2010. Feliciano now serves as the lead rehabilitation technology instructor at Blindness Support Services. Feliciano also serves as the Chairman in the Voting Accessibility Advisory Committee for the blind/visually impaired subcommittee in Riverside County registrar of voters.
Connie Edwards realized the lack of programs available to support low-income families after moving to Moreno Valley from Pasadena in 2016. Connie established the Community Wellness Center at Creekside Elementary School. The school based family center offers free services including onsite dental and medical care, as well as case management. She also started a program called Happy Feet to provide shoes for children in pre-K through high school. Connie works with community partners through Operation Gobble Gobble to provide thousands of families with turkeys and canned goods for Thanksgiving. She also collaborates with partners through the Adopt a Family Program to purchase clothes and shoes.