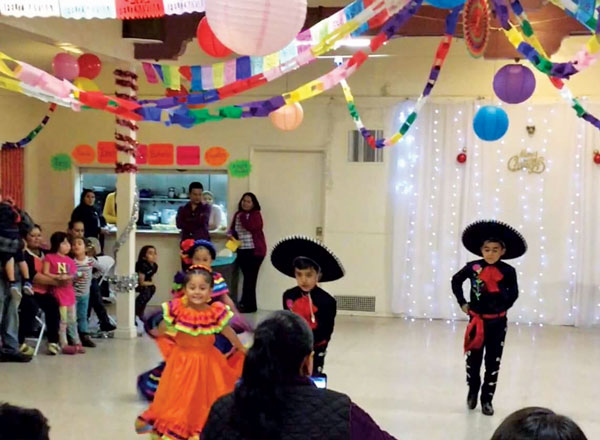 Over a hundred people packed St. John's Episcopal Church in San Bernardino on Dec. 16 for the convening of Las Posadas.
Dance instructor Gary Ferrer and his Baile Folklorico youth dancers provided a vivid performance of Mary and Joseph's journey from Nazareth to Bethlehem to find shelter for the birth of their son Jesus.
The event's purpose was to bring "a little bit of home" to area Latinos through art, culture, dance, and food, Ferrer said. Posadas in Mexico and Latin America are held for nearly two weeks and consist of many musical and dance performances.
"It's a good experience for all of us," Ferrer said. "As you see, everyone is happy here and enjoying their time together as family and friends to celebrate their homeland's culture."
Ferrer believes his dancers' progress in learning about Baile Folklorico is the culmination of the community's desire to appreciate artistic expression.
"Everyone prepares for this special moment in December [to celebrate Posadas]," said Ferrer. "And the room getting packed today for these dancers gets me excited for the future."
Among the special guests at the event was Spanish television personality Jose Luis Gonzalez, Assemblywoman Eloise Gomez Reyes, and San Bernardino city officials.
Several more Posadas are being held throughout the week:
12/21 Garcia Center for the Arts 536 W. 11th Street 6:30 p.m.- 9:30 p.m.
12/22 Our Lady of Guadalupe 1430 W. 5th Street 6 p.m.
Meanwhile, Assemblywoman Reyes is holding a "Posada Del Barrio" on Dec. 21 for supporters looking to help support her 2018 election campaign at her headquarters, located at 712 N. La Cadena Drive in Colton.
---
Join our newsletter for weekly wrap-ups of our community coverage, exclusive advertising opportunities and local business specials!